Last month, on the Revenue Rehab podcast, we had the pleasure of speaking with exceptional marketing leaders who shared their stories and left us with plenty of practical tips and actionable items. If you are a marketing leader looking for inspiration, Revenue Rehab is your go-to for tips and tricks! Curious to learn more? Catch up on a summary of our recent discussions below: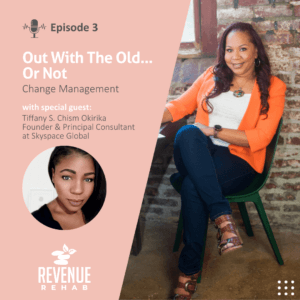 In episode three of the Revenue Rehab podcast, Out With The Old...Or Not: Change Management, Brandi was joined by Tiffany Chisholm Okirika, founder and CEO of Skyspace Global, a marketing technology firm. Tiffany brings a unique perspective to avoiding change resistance within an organization. She mentions that communication with the people in the process is often the root cause of resistance. When implementing change resistance management, Tiffany recommends the following four-step process:
Ensure that the organization understands the why behind the change.
Effectively plan the change and include everyone affected by it from the onset.
Implement the change, and continue to include all affected parties throughout the process.
Continue to engage in post-implementation communication.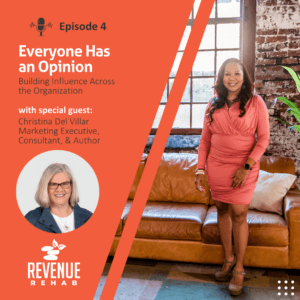 In episode four of the Revenue Rehab podcast, Everyone Has an Opinion, our guest Christina Del Villar, A Silicon Valley Marketing Executive Consultant, discusses the importance of recognizing marketers as company revenue generators. Christina emphasizes how every person in the company needs to feel empowered to help generate revenue, and marketing teams are no exception. She also points out that marketing professionals are the backbone of every company yet continually get undervalued, as she has experienced first-hand in the boardroom. Christina talks passionately about how marketers deserve, and need, a proper seat at the table. The critical takeaway from Christina's experience is to focus on relationship building with people from other functions and organizations. It will help you to learn more, have more empathy, and build trust effectively.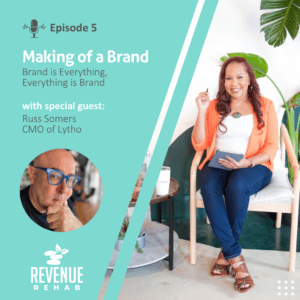 In the episode Making of a Brand: Brand is Everything, Everything is Brand, Russ Somers, CMO of Lytho, joined Brandi to share his insights on the rebranding journey. Russ took Lytho through an entire company renaming and rebranding process in a short, 90-day span. He emphasized how CMOs need to be at the center of the rebrand, from concept to execution, to foster communication and collaboration with stakeholders as a path to success. Russ shared a four-step recipe for successful rebranding:
Start with the objective.
Map out all of the touch points.
(Bring everybody along on the ride with you.
And lastly, give yourself some grace because you will miss something.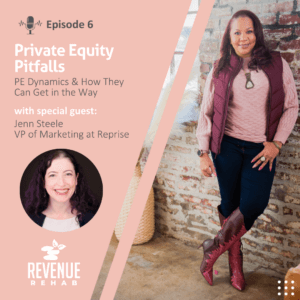 In Private Equity Pitfalls, Jenn Steele, the VP of Marketing at Reprise, joined Brandi for a discussion on how private equity dynamics can present obstacles for a CMO. Since the board largely dictates the structure of PE firms and funds, this can pose significant challenges for CMOs. Jenn walks us through the structure of a PE firm, how the departments (sales, finance) are viewed by the board, and what that means to marketing. Emphasizing how finance and budgeting heavily inform the conversation and decisions at PE firms, Jenn discusses how to navigate this structure to avoid Private Equity pitfalls. According to Jenn, discovering where the board members are coming from is critical, "because it's all about the budget and the number", and your CFO can help you in this area. Your CFO can help you figure out what your board really wants, which will lead to successful outcomes.
We hope our recent discussions have provided you with clarity and guidance in your role as a marketer. If you are looking for more inspiration and would like to listen to the full episodes, check out the Revenue Rehab website. And If you have any feedback or stories to share as a guest, reach out to us.

Until next time!