On the Revenue Rehab podcast last month, our host Brandi Starr was joined by seasoned experts from various marketing backgrounds. Throughout the month, Brandi and our guests engaged in transparent and insightful conversations that can help you as a marketing leader today.
We have summed up our discussions below: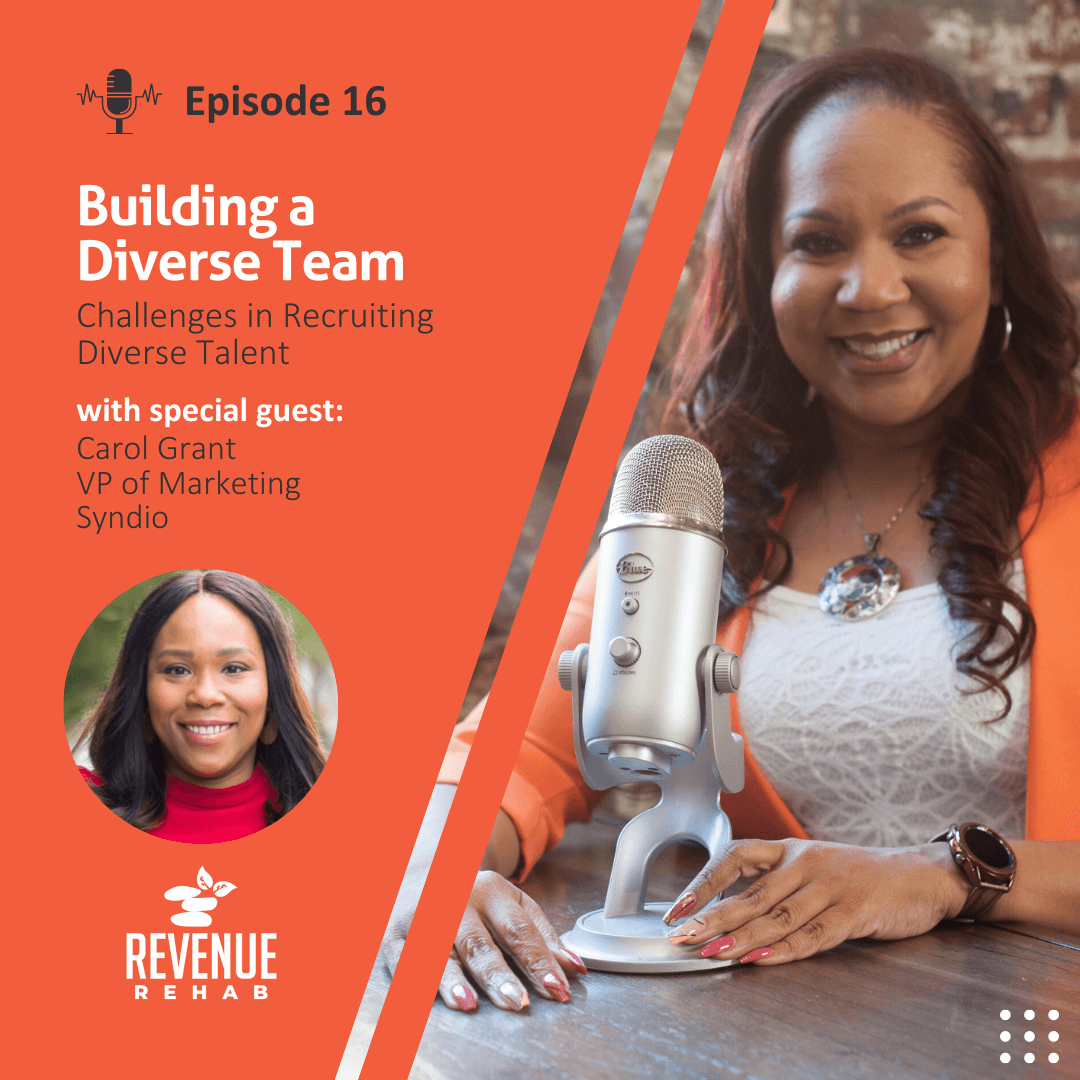 In this episode, our guest Carol Grant, CMO at Syndio, and our host, Brandi discuss effective strategies to build a diverse team and the importance of diversifying talent beyond the scope of your network. Carol walks us through how partnering with recruiting company Color Wave helped Syndio to access talent beyond their own connections. Organizations such as Color Wave can enhance your search for diverse talent and help identify potential candidates.
Carol explains the importance of data in hiring - finding your TAM (Total Addressable Market) but for people. She states that developing a plan which considers the available talent and positions you can fill is essential. Carol also emphasizes answering crucial questions, such as "does your company have enough feeder roles filled by diverse talent pools?", and offers advice on how you can use this data to recruit diverse talent.
Carol clarifies four essential elements that can lead to equitable hiring:
Set the bar higher in expectation; being determined in your search
Consider remote work; it can be a great way to access more talent
Remain consistent in your vetting and interviewing processes
Practice competency when evaluating skills related to the specific position rather than time served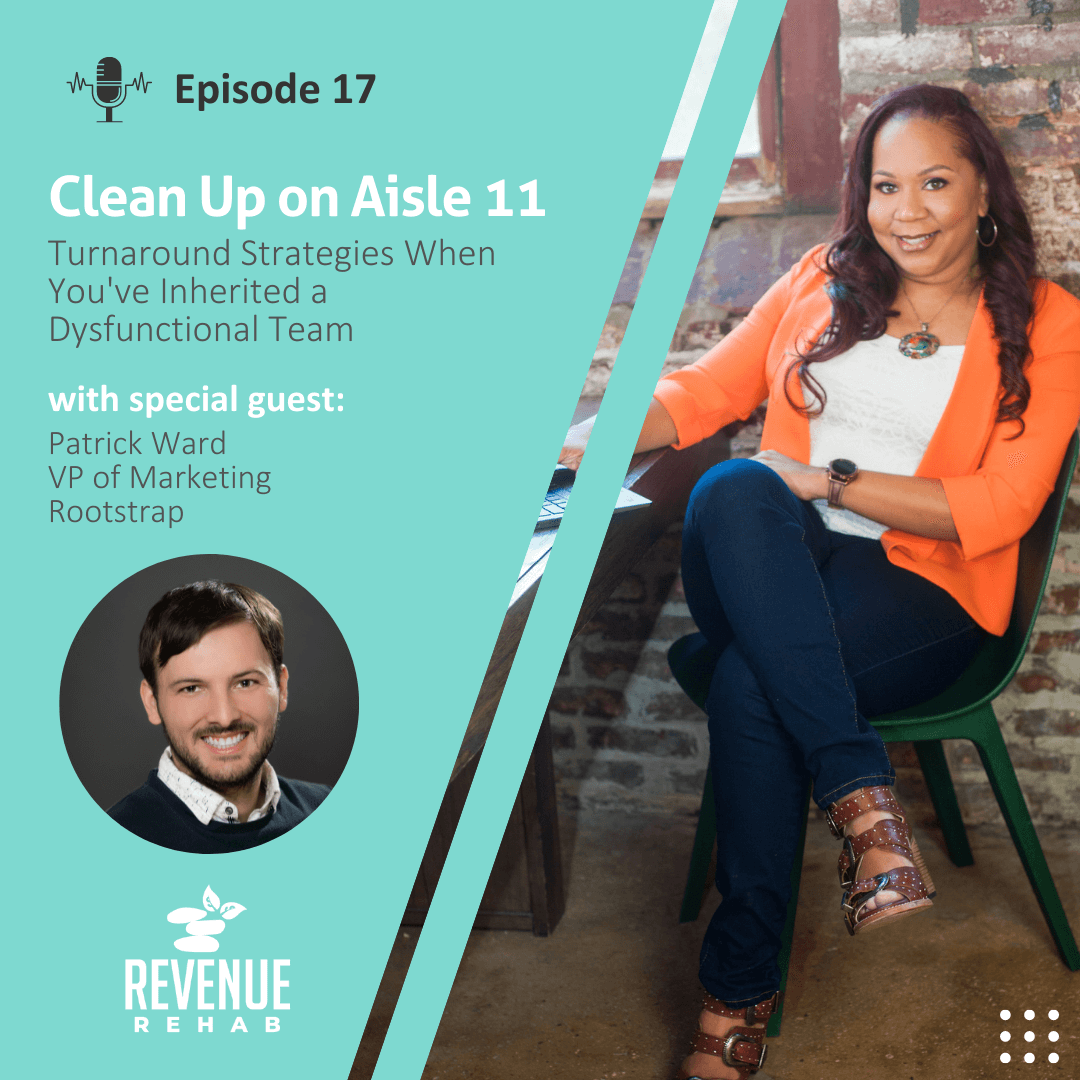 On Clean Up on Aisle 11, Patrick Ward, VP of Marketing at Rootstrap, joins Brandi to discuss turnaround strategies when inheriting a dysfunctional team.
Patrick shares his experience of building a predictable pipeline from scratch (0-$36M), and a team that delivers the same results as a team 3X its size! Additionally, Patrick has helped the company achieve a fourfold revenue increase ($5-20M) in an incredible two year span.
Patrick outlines the steps that led him to this pivotal achievement:
Step One; 0-6 Months: The Initial Team Assessment consists of evaluating the skillsets of the inherited team.
Step Two; 6-12 Months: The Critical Make or Break Point is where your team members' transitions occur, in addition to integrating your new hires.
Step Three; 12 -24 Months: In the final stage, Solidifying the Alignment for Your Real A-List Team, Patrick shares specific tools for managing your newly turned team. Additionally, he provides examples of how to keep the momentum going and get buy-in from the whole company.
Along with these strategies, Patrick advises marketing leaders to identify what each individual in their team wants, which is the key to success. Patrick emphasizes that it isn't as challenging as one might think and the results are undeniably worth it.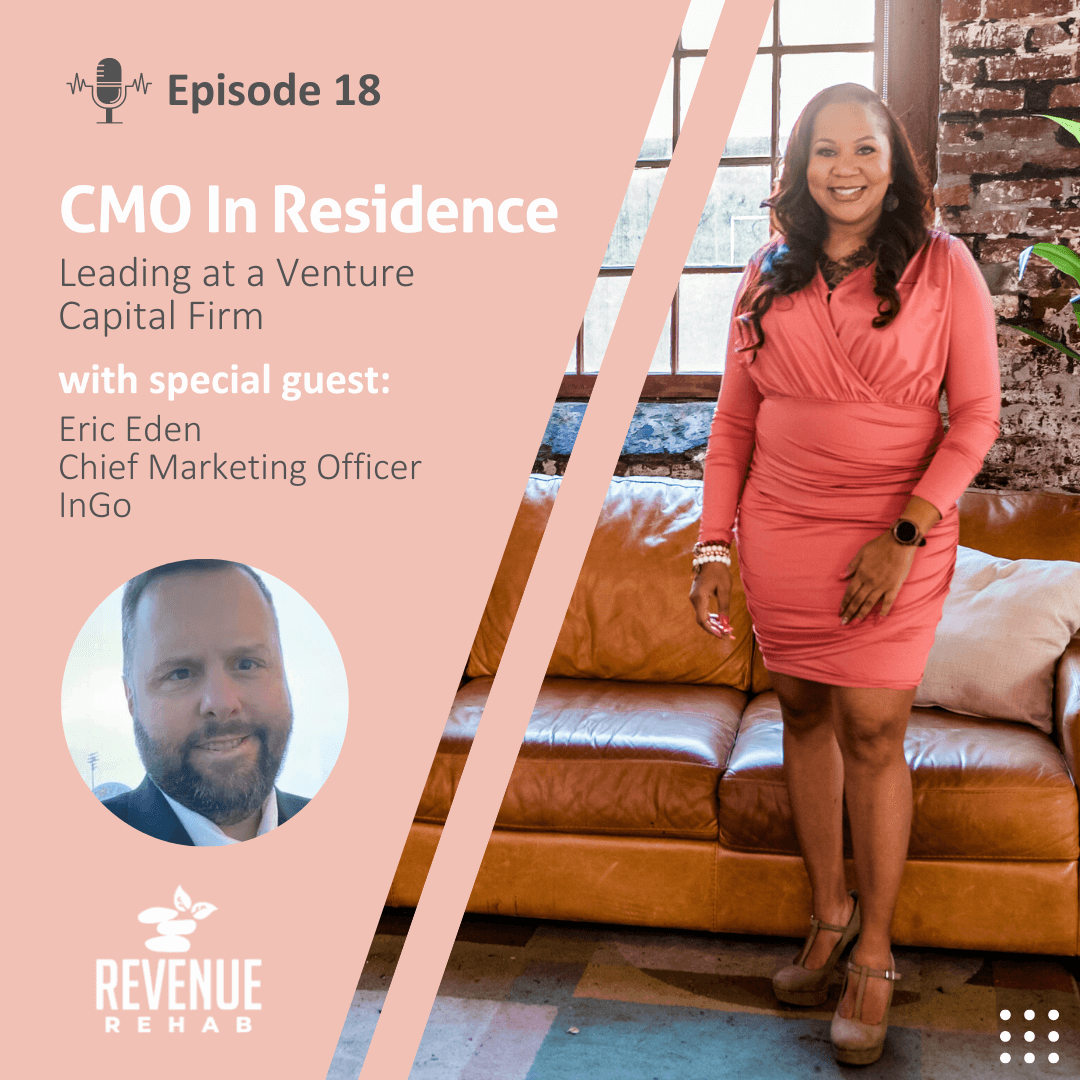 In this episode, Brandi speaks with Eric Eden, CMO at InGO, about his role in leading a Venture Capital Firm.
Brandi and Eric discuss the evolution of B2B marketing. With the uptick in digital marketing, partly due to the COVID-19 pandemic, cold calls and emails, particularly without customization, don't have the impact or results they had 3-5 years ago. Eric highlights that the 60% increase in email volumes has made consumers less open to the 'persistence' routine. With this in mind, CMOs need to recognize that B2B Marketing is evolving.
Eric states that communication is vital to be successful in a Venture Capital firm. Building favorable relationships requires solid communication skills; supported by tools such as email, texting, video calls, and in-person meetings. Open dialogue means problems can be solved quickly and initiatives can be expedited, which is essential for the success of all CMOs.
Brandi and Eric discuss the difference between Venture Partners and Fractional and Advisory CMOs. Knowing the variances in these roles will help you figure out which one is the best fit for you.

Are you a CMO considering moving into a new structure?
Eric shares an important tip to keep in mind: You need to evaluate what stage of a company appeals to you most. Consider which Series suits you best as this will help inform where you will thrive. For example, while there might be more reward starting with a Series A (start-up) company that may give you equity, but there is also more risk than a company at a later stage (Series C or D), which has more stable funding.
At the end of our episodes, we have been asking our guests to share one actionable item that we can begin with today (including ourselves). They have been generous enough to share an array of realistic and practical examples. If you would like to hear about these actionable items and learn more, head over to the Revenue Rehab website. We hope our podcast episodes served as inspiration for you; let us know what you think, you can reach us at any time.


Until next time!