All creators need tools to perfect and execute upon their art. Artists have their paint brushes. Chefs have their chopping knives. Musicians have their instruments. And what do marketers have? Well, a marketing automation platform is a great place to start. Although creativity and automation may not seem synonymous at first glance, in reality the two go hand-in-hand. A marketing automation platform, such as Oracle Eloqua, helps brands to creatively thrive by empowering enhanced brand recognition. How, we hear you ask? Keep reading to find out exactly how Oracle Eloqua will improve your brand recognition and bolster your brand's reputation.
Eloqua: A Tech Lover's Dream
There's a lot to love about Oracle Eloqua. As a marketing automation platform, Eloqua stands out from the crowd with its BYOC (bring your own code) nature- allowing Marketers to upload HTML, build their emails and landing pages, utilize tools of their choice, and easily customize their layout and style via CSS. The no code, drag and drop tools within the Eloqua platform ensures marketers that 'go no-code' still achieve symmetry, speed, scale and the ability to build complex data powered communications.
And that's just the tech aspect - we're nowhere near done singing Eloqua's praises yet, keep reading to discover more of its benefits.
Empowering Brand Recognition
Beyond its technological advantages, Oracle Eloqua also boasts some impressive brand recognition feats. The sharpness, finesse, and consistency of our shared landing pages and email campaigns ensure a strong brand recognition - critical to your engagement and conversion.
Create Compelling Content With User-Friendly Functionalities
Now that we've touched on Eloqua's tech and brand aspects, let's take a look at another important piece of the marketing puzzle - content. We know that content can be notoriously tricky to master - from finding the right brand voice, to communicating a message clearly, to engaging readers. Eloqua recognizes this, and has simplified the whole game of content by including easy-to-use content blocks and shared content functions. This helps your brand achieve consistency - whatever your scale may be. Whether your brand is deploying a small-scale campaign or a long-term strategic one, you can rest assured in the knowledge that Eloqua is here to help.
Enhance Your Brand's Cyber Awareness
Brand recognition isn't just all about sleek logos, catchy slogans, and shiny brand colors. What if we told you that enhanced brand recognition can engender user cyber safety? Hear us out: the more consistent a brand's look and feel is, the more savvy consumers become at recognizing suspicious brand knock-offs and spammy predators. Take the example image below. Here we see a classic example of a spam email. It does not contain SAM's legitimate club logo or email type. The stronger SAM's brand recognition is, the less likely its customers will fall prey to cyber threats. Eloqua takes the edge off cyber threats by providing a consistent brand look and feel - ensuring that your customers can easily differentiate the woods from the trees.

SPAM email not Sam's club logo or email type
Differentiating Your Brand Assets
On the opposite end of the brand recognition spectrum, assets that are too identical - can also become problematic. Brand recognition requires a delicate balance between consistency and originality. With increasingly fierce competition, brands are required to differentiate themselves accordingly. It's critical that your brand's content clearly communicates the solution to your customers' problem, with your value proposition differentiating how your product solves customer pain and is superior to other options. Eloqua strikes the delicate balance between consistency and originality - ensuring that your brand recognition is clearly differentiated amongst the competition. Here are some more of the many ways that Eloqua differentiates your brand:
Eloqua's resources make building branded emails and landing pages simple - create Content Blocks in your responsive design editor, maximize shared content, and ensure cross-functional marketing efforts are consistent.
A consistent look and feel requires strategic deployment of visuals and messaging. Eloqua's shared content provides a winning solution to both aesthetic and written consistency.
With Eloqua, marketing teams can use restrictions inside the template gallery, or user level control over modification abilities. Brand standards can be built into content blocks, which further supports marketers who wish to create compliance by ease and enablement.
Eloqua's email creators have the ability to adjust text, dynamic content, videos, hyperlinks, and landing page carousels.
Within the responsive design editor, a no-code drag and drop WYSIWYG editor enables pre-configured content components that can be reused across messages, support brand compliance, and ease content creation.
Marketers can effectively scale communications and don't need to start from scratch for copy and content creation every time they wish to communicate to their audience.
From a Blank Canvas To A Work Of (Content) Art
As illustrated in the image below, you will start with a blank landing page containing empty cells. As you drag content to the empty cells, your blank canvas will transform into a work of (content) art. From your blank canvas, cell clusters enable you to plan and visually arrange your elements.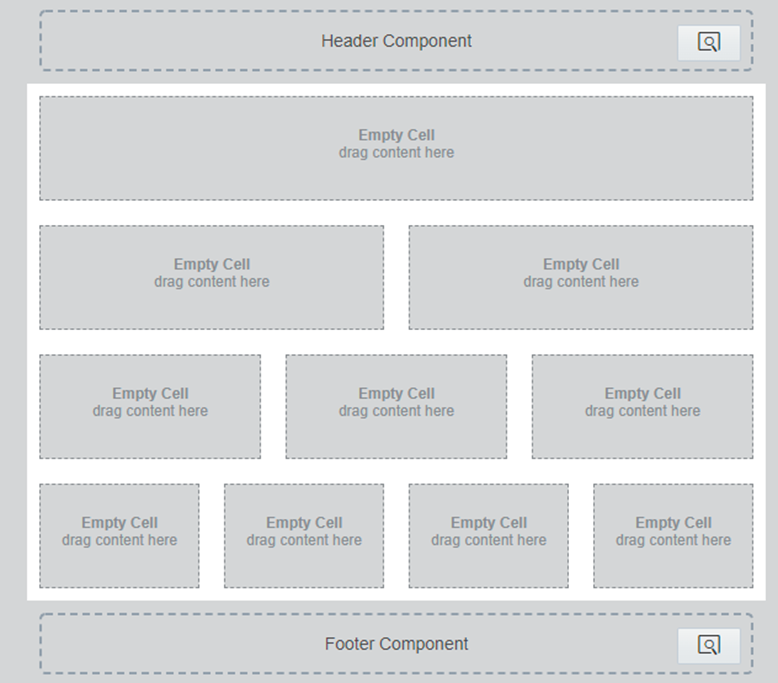 In Eloqua, cells host images, video, text copy, and content - holding everything together like the foundation of a building. Unrestricted by pre-set templates, the message format modifies to best suit the information you want to present, as well as repeated clusters of content that are used regularly, are easily used across teams.
Employing the use of Eloqua assets can reap numerous rewards for your company. The elevated digital experience that Eloqua provides for your website, emails, forms, and landing pages seamlessly build and enhance your brand recognition.
Eloqua assets consist of manipulatable building blocks for communications that can be prebuilt to ease production. This presents an opportunity to consider how your presentation informs the message reception and what format impacts specific design components. After clarifying this, you can embed top performers into the delivery structure by saving the optimal, in your collection of content blocks.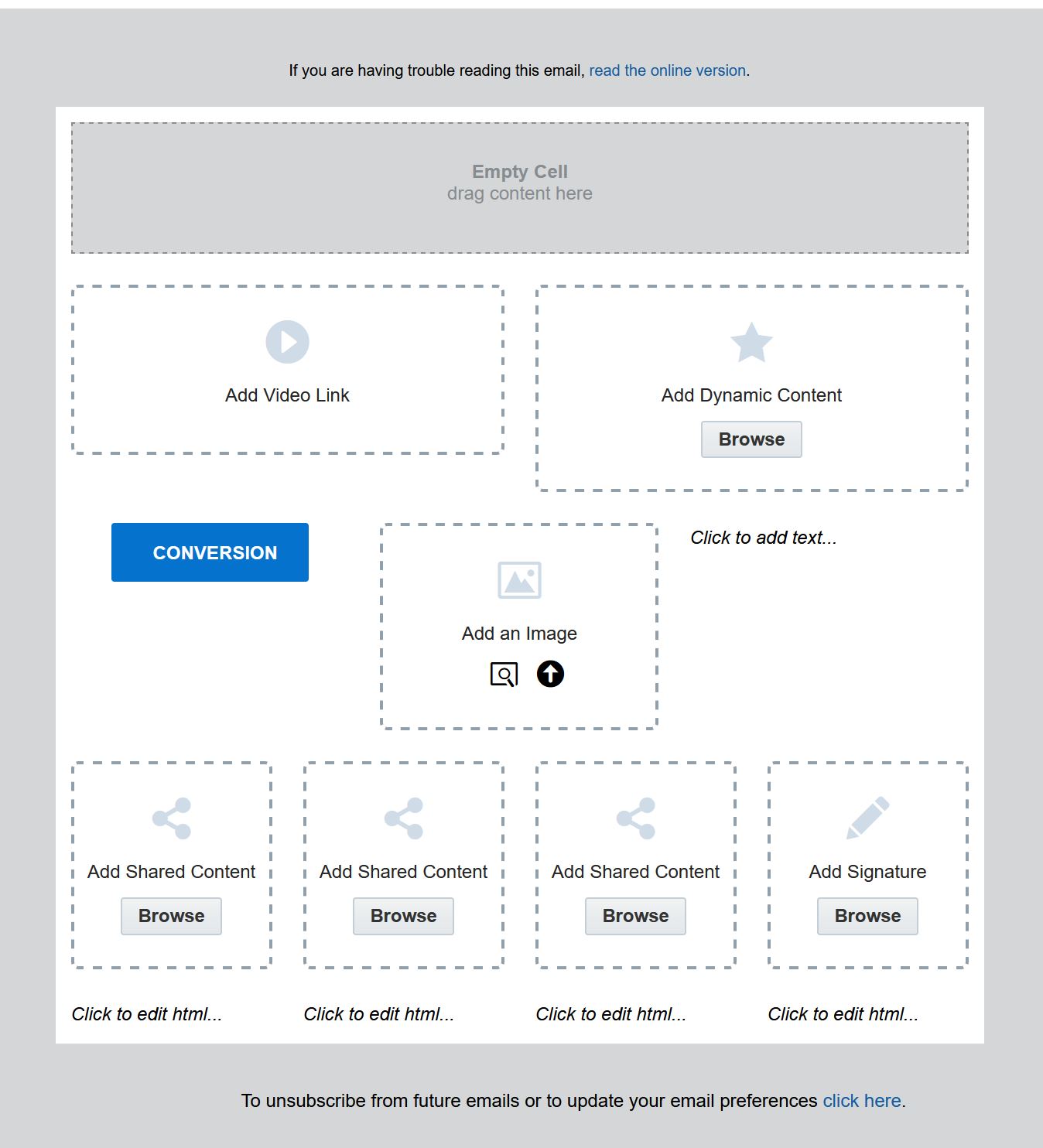 Technically speaking, creating Landing Page and Email Templates is a creative, yet standardized process, with countless tools at your disposal. From your shared content folder, you can easily deliver the consistent look and feel needed for success by leveraging shared content for strategic deployment of specific text, key images, and hyperlinks that drive contacts where you need them to go - all in an easier, lower risk, and less manual process.
Dynamic or Shared Content - Which is The Right Fit?
Eloqua offers both Dynamic and Shared Content. Dynamic Content offers a better solution when you require more personalized content, and need to deliver specific assets. Shared Content, on the other hand, ensures the same brand compliance and simplified content creation found in the Content Block creation tools in the Responsive Design Editor, with more flexibility around the tools used by your organization to express your brand aesthetic.
Conclusion
We hope you have enjoyed learning how Eloqua can help you and your company with your content creation efforts. Eloqua's customizable landing pages and email templates can help your brand to enhance its brand recognition, clearly differentiate its assets amongst the competition, and promote cyber awareness. On top of this, Eloqua's pre-set templates save plenty of time spent on repetitive tasks - so, your time can be invested in creating and executing meaningful marketing activities. Any questions? Feel free to reach out to us with, we always love to hear from you!
About the Author

More Content by Amy Noel