A common misconception about Oracle Eloqua is that it is merely an email automation tool. In fact, while email automation is the reason most companies purchase Eloqua, it can do much more—more than most users expect, and more than other automation platforms can do.
One of the most powerful benefits of Eloqua is its ability to maintain clean data that can be stored and continually evaluated for optimization. Through custom data objects, form processing steps, program canvases and insight reporting, data can be automatically—or manually—added, removed and revised.
This functionality is a distinct advantage over competing platforms. So, for marketers with this advantage, let's break down how to fully leverage it.
Storing Data
Custom Data Objects
Eloqua limits custom contact fields to 250. More than 200, though, often results in messy data. The solution is a custom data object (CDO). A CDO allows data to be stored as a contact table and is a perfect way to store useful, non-standard data. Let's consider a practical example of the usefulness of a CDO.
If you regularly use webinars in your marketing strategy, it would be valuable to know who attended each webinar, how often and when. Creating a field for each webinar, though, would quickly become difficult to manage. A CDO simplifies analysis.
Here's how it would work: Create a CDO, mapped by email address, with names, dates and other relevant data. Then, pull that information into a segment. With a CDO, you can store as much information as you want while keeping the individual data fields clean.
Form Processing Steps
Most Eloqua users are aware of forms and may use them, but creating a form and hosting it on a landing page to collect names is just the first step. When navigating Eloqua forms, the processing steps are how we store data and write it to contacts.


The steps below demonstrate how CDOs can be used within form processing to automatically add records to an existing CDO. It is not typically recommended to create a CDO for every form, but creating a CDO to map data from forms leverages the storage capabilities and is an effective way to ensure data remains easily accessible and can be continually updated.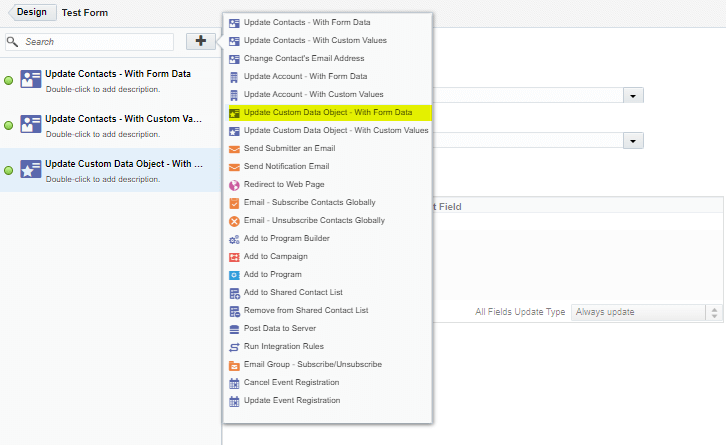 Evaluating Data
When evaluating data, first determine if you have valid emails for your contacts. Next, find out how engaged your contacts are. If your database has limited bounces but little engagement, there's still work to be done.
In Eloqua, we recommend using the program canvas to evaluate data in the background. Follow that up with insight reporting to automate custom reports delivered by email. These steps will help ensure your automated email campaign are reaching your targets and have a chance to be effective.
Program Canvas for Data Cleansing
Setting up and deploying an Eloqua program for bounce counts and email subscribes and unsubscribes is simple and powerful. The program shown below, for subscription status or bounces, will automatically tag contacts according to their status. With this configuration, you could implement an Eloqua insight agent to deliver updates on those counts on a weekly basis.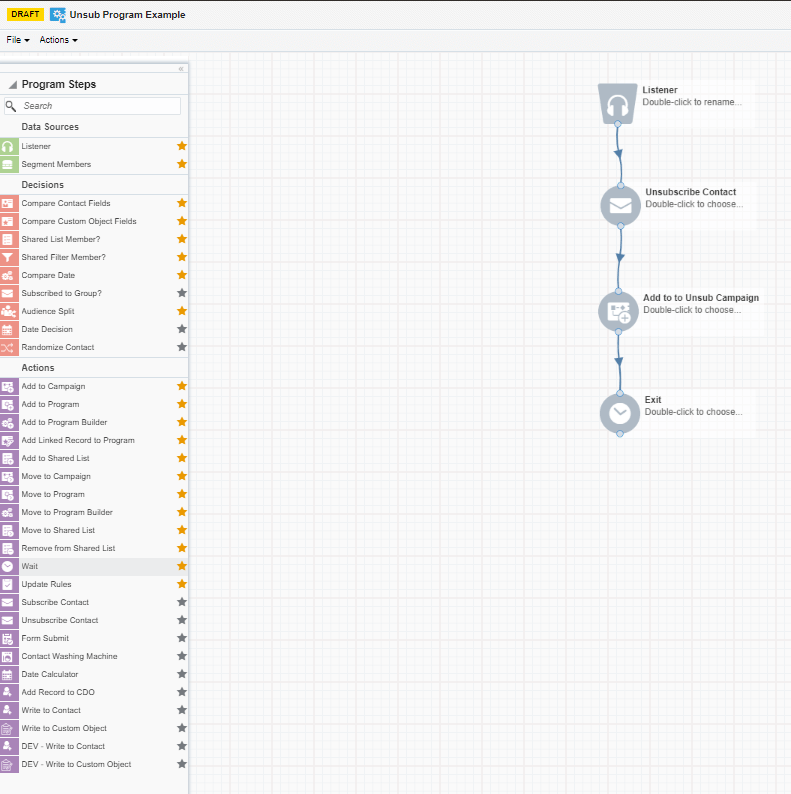 A critical step to the program above is sending it to a campaign. You can do this by connecting a wait step to an exit step in Eloqua. You'll receive automatic notifications of campaign entries, which, in this case, are weekly unsubscribes.
This logic could be applied to any email groups and/or bounces. The process would constantly evaluate the cleanliness of your data and update you daily, weekly or monthly.
Program Canvas for Engagement
Using various update rules, shared filter evaluations and action steps, data can be cleaned and tagged in the background. With the insights gained, lead scoring, based on engagement, will determine the content and frequency of your emails. With a program to automatically tag records, you'll understand how active your database is.
When setting up new campaigns and programs, the update rule in Eloqua is another valuable feature. When you create the update rule, a record can automatically be updated in the program or campaign to match the rule.
In the update rule example below, we included an evaluation step in the campaign canvas. If a record opened the email within the last two weeks, we move it to a shared filter evaluation. If the contact opened five or more emails this month, it is considered an active record, and we connect it to our update rule, setting its engagement status field to High.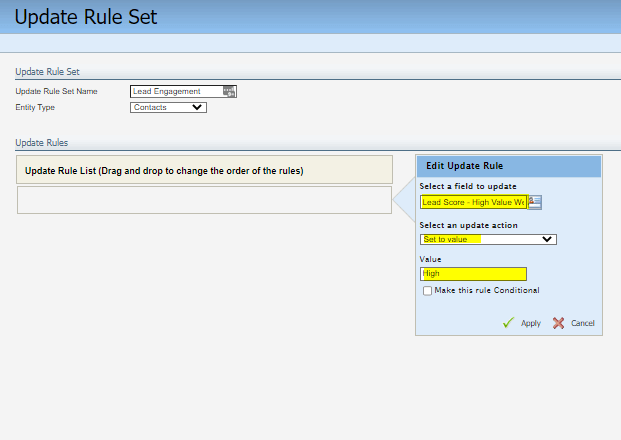 In another program canvas, any changes to the Lead Rating – Engagement field are automatically routed into our lead engagement program and run through those action steps. We then could create another insight agent to automatically send us updates based on campaign entry.
If this approach seems too complex, you could create a new segment with filter criteria pulling records based on the lead engagement field status to evaluate how many engaged contacts you have in the database.
Beyond Email Automation
These examples demonstrate how to store and evaluate your data in Eloqua. There are many other ways to do this, based on your program needs.
Strategize with your team, decide what information is most important to you, what methods make the most sense, and implement them. The success of your email efforts is dependent on much more than content, so take the time to evaluate and update what drives your Eloqua instance: the data.
Tegrita Can Help
If you need expert guidance on how to fully leverage the power of Eloqua and your data, we can help. Our team would love to help you do what we do best: make your marketing technology perform at its peak, take full advantage of your marketing automation and get your integrations up and running smoothly. We'll work with you to customize execution that makes sense for your technology.
Let's talk about taking your marketing to the next level.
About the Author

Follow on Linkedin Visit Website More Content by Packy Jones