Taking the time to think about Oracle Eloqua Email Group organization will pay off for both your marketers and contacts in the long run. Email Groups create a taxonomy of emails. They also enable a granular subscription model for contacts. Your reporting will benefit from sending better-organized types of communications. This is all especially true for businesses with multiple units that share an instance of Oracle Eloqua.
The first step in organizing Email Groups is to identify whether you are using the built-in preferences page for contacts. If not, check whether you have one or more custom subscription pages in use. The system page will look something like this (image taken from our sandbox):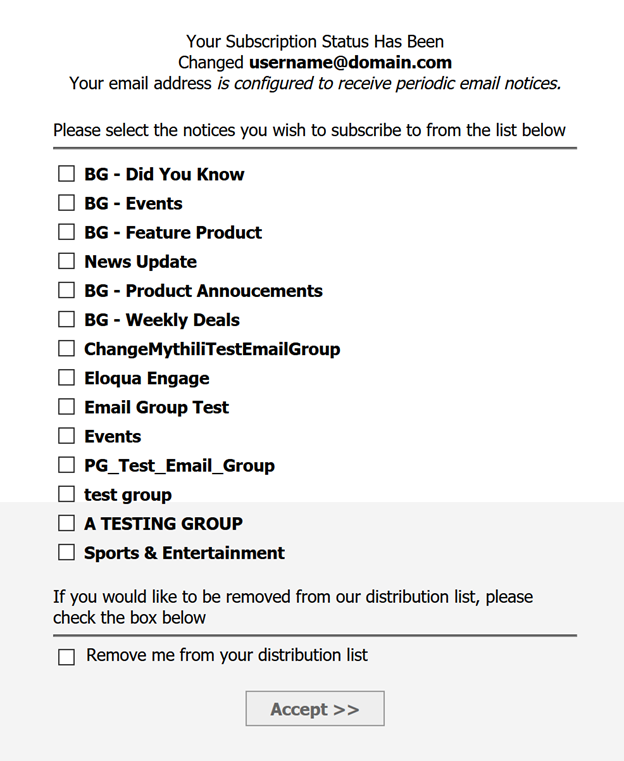 A custom page will no doubt have better looks.
The second step is identifying what types of groups you would like to have. The groups themselves should be fairly high level, but specific enough to the types of emails you'll be sending. Every email needs to belong to an Email Group, so be sure not to paint yourself into a corner with your group names.
Be sure there aren't too many groups either. It can be challenging for marketers focused on a deadline to have to make a choice between two or more similarly named Email Groups (I know, I've been there myself).
The third, and possibly most critical step in this scenario, is choosing names for your Email Groups. The system names of the groups should begin with a name or code that identifies the specific business unit or group. This could be something like MCOM, SALES, or PR. Whatever it is, make sure it makes sense to you. Then, follow that code with the name of the group. This will keep the groups organized within the system and on the system subscription page.
By the way, the Email Group settings can be found under: Assets > Email Setup > Email Groups. If you can't see these settings, check with a system administrator.
System Subscription Page in Oracle Eloqua
You will need to decide which groups your contacts will be able to interact with. If you are using the system generated subscription page, check the box to include the group on the page:

Choose a contact-facing name that calls out what business unit the group belongs to. Keep in mind, with the system page all the groups will be displayed together. For multiple business units, it would make sense to provide a brief description for each group as well.
Custom Subscription Page or Pages
If you have a custom page or pages, be sure to update them with the new options. Also ensure the Eloqua form that processes submissions is up-to-date. This may be a good time to create multiple separate subscription center pages for each business unit. I highly recommend testing these updates on a separate page before committing anything to a public-facing page.
Other Customizations
Each Email Group has several different settings that can be updated: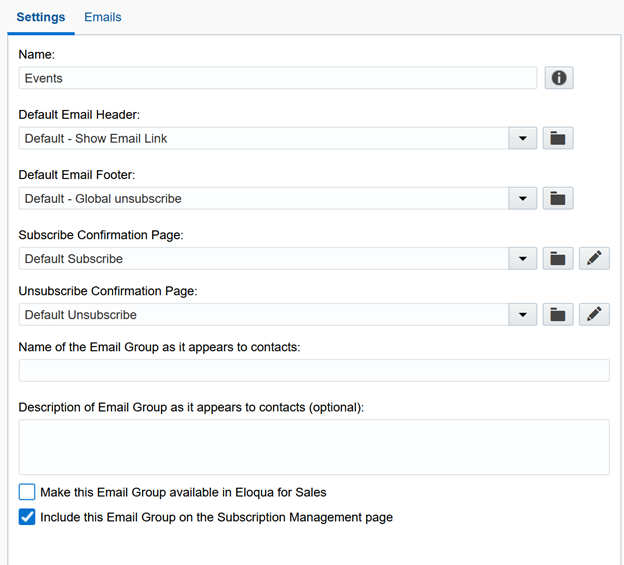 You may consider setting custom assets for the defaults under Default Email Header, Default Email Footer, Subscribe Confirmation Page, and Unsubscribe Confirmation Page.
Getting a handle on Oracle Eloqua Email Groups will ultimately help you deliver better communications to your contacts. It will also make your marketers' lives a little easier.
About the Author

Follow on Linkedin More Content by Jesse Nobbe